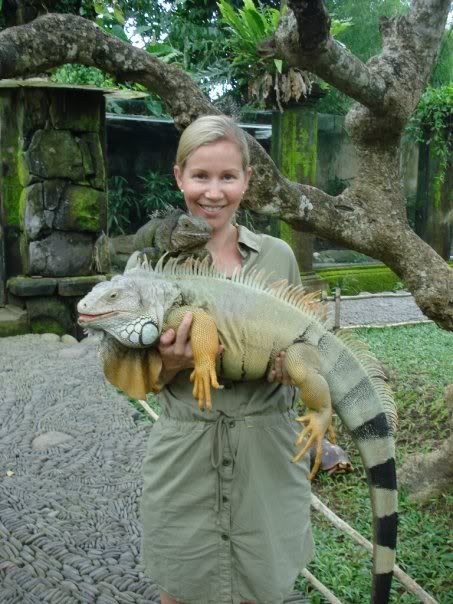 It's the day after Thanksgiving, so it's time for the Dry, Stringy Turkey of the Year award to kick off Jay's Golf Awards – The Jazzys for short. By the way, also tune to Tony Korologos at Hooked on Golf for his Annual Turkey Awards.
Normally, I pick one culprit, but this year was a bumper crop for chumps, lunkheads, and dingbats in sports and particularly in golf. So this year, we're doing a top ten. Ernesto, (The Prediction and Security Iguana), has seen fit to join me. He's filed his teeth to sharp points and is looking forward to a big bite of free-range lugnut instead of Thanksgiving leftovers. These guys must look like a Porkulus-Turbaconducken hybrid to him…
10. Amy from "Boheme PR" – she incessantly spams me with "Press Releases" ABOUT A $20 GOLF TOWEL! She's reinvented this ugly piece of crap about 10 times. Here's my favorite of her "bi-monthly press releases," (bi monthly press releases for a towel!), where she tried to tell us it would help the environment:
"The bamboo terry stays wet for an entire round, hosting a clean ball for clean rolls – all day long. Bamboo's key features bring exceptional performance qualities to ruletwentyone. In additional to being anti-microbial, bamboo is anti-fungal, anti-static, and de-odorizing….Ruletwentyone's charcoal technology brings inherent benefits that may contribute to a golfer's game:
Bamboo Charcoal soothes the nerves – the infrared production promotes human body blood circulation and active brain cells. Bamboo Charcoal provides an "anion effect" – relaxing nerves, purifying the air and curing headaches and insomnia. "As golfers report the ruletwentyone [towel] 'focuses them over their shots and putts,' we know that this benefit is a function of its intuitive design and simple operation," says Joe Borgenicht, CEO of rulegolf. "We are now also instilled with a level of confidence in knowing that the bamboo qualities contribute to improving your mental game as well."
The towel soothes you to play better? Maybe if you smoke the bamboo…or maybe that's how they come up with this head-banging gibberish to try to sell you a $20.00 towel! That is pure, weapons-grade bolonium! Hey Amy! Can we get a non-stick, anti-microbial, anti-fungal deodorizer for your godawful press releases? Like the time you wrote a drippy-dippy plea for us to give it as a gift for Father's Day?! Don't you go changin' Amy! We love you just the way you are:)
9. The Rule 21 golf towel. (See number 10.)
8. The IOC – Golf does not belong in the Olympics. Besides, where are we going to play in Brazil? Some ghastly new tourist trap with waterfalls, bronze statues, and stained glass windows? Turning Stone South? Which smoothly beings me to…
7. Turning Stone Casino – These whores will spread their chicken legs thin for anyone who can help them suck up to the PGA Tour so they can desperately cling to the fig leaf of credibility they claim as part of the Tour schedule…a spot they get by throwing more money at the Tour than anyone else. Then they have the stone…in a recession…to charge over $330 to fans to see an exhibition match with Tiger Woods and three straw men. Overpriced, under-designed, overinflated, and undertaxed (read: they evade them any slimy way they can), the sooner this barge of a "golf course" sails into the ocean and sinks, the better for the virtue of the game. Until then…"Play where the pros play"…in the reddest of the tour's Red Light Districts.
6. Sandy Lyle – Have a nice hot cup of shut the hell up. Your unsolicited attacks on Monty at the British Open were not only a non-sequitor, but were mean-spirited. Go back to the "where are they now file," where you belong.
5. Sandy Lyle – This time for your supposed apology, which was nothing more than another attack. It wasn't even veiled! You were caught acting like a selfish brat, so you blamed the man you abused. "There is no greater scoundrel than a man who blames the man he abuses." – author Patrick O'Brian, (the Master and Commander series).
4. Stewart Cink – Stew, I luv ya. You're a super guy; no one is nicer and more generous with his time. Ordinarily, you can't blame a guy for picking up a Claret Jug he finds lying on the ground, (see Curtis, Ben and Hamilton, Todd), but you did rob us of the greatest sports story in a century – Tom Watson at 59 winning the British Open would have shattered the record of Old Tom Morris by 11 years. I owe you a drink for this, I know, but even you agreed!
3. Kenny Perry – Another super-nice guy who will be haunted by his loss at the Masters this year. He had a two-shot lead with two to play and couldn't hold on, then threw up on his shoes in the playoff.
2. Tim Finchem – Golf in the Olympics is a brutal, bilious insult to the game, as is a non-transparent and incomplete steroids and PED testing regimen. I predict the combination of the Olympics and the steroids imbroglio will be his Waterloo. After all…if he wants golf in the Olympics, the PGA Tour's steroids policy MUST be improved to match the standards set by the I.O.C. The Tour is woefully insufficient in testing for masking agents, has flexible penalties based on discretion, no testing for HGH, and questionable enforcement. So either the Olympics will punt golf because the Tour won't comply, or someone who would NOT have been caught on the Tour's laughable fig leaf of a policy will get busted. When is comes to steroids, Tim Finchem is no better than Bud Selig: hiding behind the altruism of the game to protect his corporation from criticism rather than using his position to protect the virtue and integrity of the game. But that's what happens when your trained to grab greedily for the last possible dollar.
1. Tiger Woods – This year, Tiger confirmed to everyone he not a great sportsman. After being excoriated all around the golf world for boorish behavior at the British Open and being pointedly questioned about it, he failed to accept any responsibility or show the slightest remorse – "I'm not the only one who does it." Then he bounced TWO drivers into galleries by petulantly slamming the club onto the ground so hard, it flew out of his hand and helicoptered into the crowd. I wonder what you have to accomplish in golf to earn the ability to disobey the rules of civility and sportsmanship. Then again, his role models are Jordan and Barkley.
***UPDATE*** Tiger's involvement in his late night car crash, and his subsequent silence while controversy swirls all around him confirms this pick.***
Past Winners:
2008 – ESPN/NFL
2007 – Tom Farrey, ESPN
2006 – Turning Stone Casino
Comments