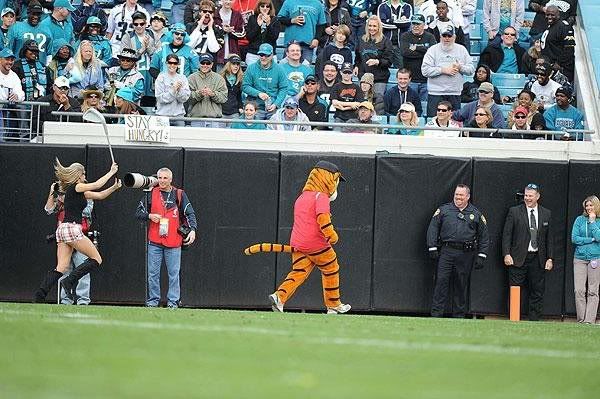 Since silly season is upon us, I can turn my attention to Jay's Golf Awards, known around here as the Jazzys.
Last year, we only gave out two awards since the Tiger scandal scud-attacked every other story all December, (not to mention the rest of the year). We gave out the 2009 Turkey of the Year to Woods for being a poor sport and role model, but that was before the scandal broke. Dan Jenkins took last year's sports writing award.
This year, we'll give you a full compliment of informative awards, highlighting Best New Courses, what great architects are doing, some great writing, and some terrible equipment!
Of course, we kick off the awards the day after Thanksgiving with the Dry Stringy Turkey Award to the Turkey of the Year, occasionally in conjunction with Tony Korologos of the Golf Space, who'll do a top 10 this year.
There were plenty of candidates, but none of whom came near Woods's epic flame-out, perhaps the single worst act of self-immolation in sports history barring Lawrence Taylor and O.J. Simpson.
Some Dishonorable Mentions include: A) Dustin Johnson for blowing two majors, but mostly for his boneheaded move at the PGA Championship, grounding his club in what was so clearly a bunker, he could have used suntan lotion; B) Tim Finchem – as "see no evil, hear no evil" as Bud Selig about steroids/PEDs, including Woods's being affirmatively linked to two different suppliers; C) Nike for godawful equipment and backing the athlete no matter how vile, vulgar, or vomitous; D) ESPN for the same reason; E) PR Dingbats who do exactly the same – like Patricia Hannigan who was roundly vilified for her asinine contention that "women would rather be with a man who cheats than a man who boasts about not cheating;" and F) Blarney Stone Casino, first for CEO Ray Halbritter giving himself a sponsor's exemption to his second rate-event at a third-rate course, and second for talking their way off the Tour schedule by delivering an unwelcome ultimatum.
But of course, the unrelenting, impenitent Woods, a tuneless soloist singing tissues of lies and nonsense against the roiling thunderheads that destiny still hurtles towards him, is still by far the most misguided of men. Tiger 2.0 is absolutely no different than Tiger 1.0, all bluster, bombast, and BS. This time, the majority of the press won't be selling his funky jazz without a Surgeon General's warning. If Woods is where you get your news, you won't want for moonshine.
Let's play 18 holes on the course Woods built last year.
Fetid Harpy Country Club – Par 72, 7,669 yards
1st Hole, Par-5 – Twas the night of Thanksgiving and all through the house, Tiger went running a-chased by his spouse. She waved a 9-iron and wasn't too merry. She found hookers phone numbers in his Blackberry.
The 2:30 a.m. car crash, allegedly triggered by Elin phoning Rachel Uchitel, started the downward spiral. Your author interviewed Uchitel, who denied everything right here at AWITP. (Thank you R.B., you're welcome New York Daily News!)
Woods told us all a wild tale of heroism and rescue worthy of Superfriends, then had the whole thing swept under the rug while he disappeared for quite some time. Uchitel hired Gloria Allred and allegedly got a lot of money for her silence. Woods paid a $164 ticket and looked as though he'd walk away with only a few dark murmurs until…
2nd Hole, Par-4 – He might have gotten away with it if not for Jaimee Grubbs, who provided the voice mail from Tiger that became a hit R&B remix called "name off your phone." Goodbye Plausible Deniability – Hello Crisis Management Overload.
3rd Hole, Par-4 – Jamie Jungers, the Michelle Braun hooker who couldn't coax money out of Woods was allegedly with him the night his father died, something Woods has not come out and denied. He won't even broach the subject. An apology for this, if true, might go a long way toward truly humanizing him and silencing a loud and viable criticism.
4th Hole, Par-4 – Porn stars, hookers, and strippers, oh my! A total of 121 girls, some of whom appear dirtier than the unmentionable icicles on the underside of an outhouse toilet.
5th Hole, Par-5 – The Perkins waitress in the church parking lot while the National Enquirer was filming and picking up her used tampon. He traded their silence for a Men's Fitness article which was also used as a sleek, dazzling veneer to deflect dark whispers of steroid/PED use…after all, he's just the country's greatest gym rat. That explains it. By the way, am I the only one that wonders why in Heaven he found her even remotely attractive? "She's not pretty at all!" gasped one horrified golf fan.
6th Hole, Par-3 – Elin's mom rushed to the hospital in the middle of the night about a week after Tiger's crash.
7th Hole, Par-3 – Those hilarious Chinese news animations. Actually we should thank Tiger for those, they are hilarious!
8th Hole, Par-4 – The Appalling Apology. That someone who was so disgraced could dare ask the media to just show up, nod on cue, and not ask questions is even more odious and misguided as those who wanted to show up and participate in such a pathetic ho-down. Tiger wasn't just juvenile and robotic. He was impenitent. He even wagged his finger at us. The man has the gall of a camel!
9th Hole, Par-4 – The sexts: "Would you like a golden shower?" "Go to the bathroom and take a picture," and my personal favorite to Jamie Jungers – "You're my little coffee cup…" among others.
10th Hole, Par-4 – South Park, Saturday Night Live, and countless other spoofs. "Oh here come the cops. We have to lie to them. Hit "x" to lie." I wonder if Tiger is still a fan.
11th Hole, Par-3 – The Howard Stern Pageant of Mistresses. That's all that ned be said.
12th Hole, Par-4 – Susie Ogren and the allegations that Tiger or his friends tried to ply her with Ecstacy.
13th Hole, Par-4 – At least three porn movies such as "Tiger's Wood." Poor Elin…how would your girlfriend feel if she was being played naked by a girl named "Kylie Kokk" or something even worse?!
14th Hole, Par-5 – The fake Tiger trying to deceive the media outside the Hattiesburg sex addiction clinic. Who was he trying to kid? Especially at such a moment of utter humiliation. has the man no shame or dignity?
15th Hole, Par-3 – The creepy ad from Nike during the Masters. That was bizarro.
16th Hole, Par-4 – Maureen Decker, Tiger's kindergarten teacher accuses Woods of lying about being racially attacked when he was in her care as a student. She is angry about the way she claims she was falsely portrayed, in particular when Tiger says he came to her for help and protection and she allegedly did nothing. Despicable, if true.
17th Hole, Par-4 – the teen age babysitter was allegedly girl number 121…and the one that Tiger supposedly didn't tell Elin about, which was the final lie he told before she kicked him to the curb and divorced him. Allegedly, she called him at a dinner at the Masters and shrieked like the Banshee of Tralee. Can you blame her?
18th Hole, Par-5 – and the one we are still watching – Tiger has been affirmatively linked to steroids two different ways: once through Canadian Dr. Galea, and once through Keith Kleven, who has ties to BALCO.
So when Woods asks you for a free pass, are you going to just give it to him?
Past Turkey Award winners:
2009 – Tiger Woods
2008 – ESPN/NFL
2007 – Tom Farrey, ESPN
2006 – Turning Stone Casino
Comments